Cancer Cells Evolve, So Does Our Science
We are pursuing a highly promising pipeline of next generation oncology leads by creating discovery platforms around validated oncogenic pathways with clinical de-risking.
Our platforms harbor next generation differentiated leads that specifically target the oncoproteins as the backbone program with further assets that allow for a deeper exploration of the target biology & indication space.
Through this platform approach, Rhizen is looking to develop a derisked pipeline of novel oncology agents that can achieve better treatment outcomes and expand into novel indications & strategic combinations.
| | | |
| --- | --- | --- |
| We employ a multi-pronged approach by modulating two or more 'hallmark' mechanisms simultaneously | | This approach guides our choice of molecular targets and our pipeline of novel cancer medicines |


Adapted from Hanahan D, Weinberg RA. Hallmarks of cancer: The next generation. Cell. 2011:Mar 4;144(5):646-74.
To know more about our assets targeting these multiple hallmarks of cancer, visit our
Tracing Our Journey in Identifying and Developing Key Assets based on identified platforms to address multi-evasive biology Early Efforts

Pioneering Research

Global Outlook

Expanding Horizons

Regulatory Progress

Regional Deals

Future Steps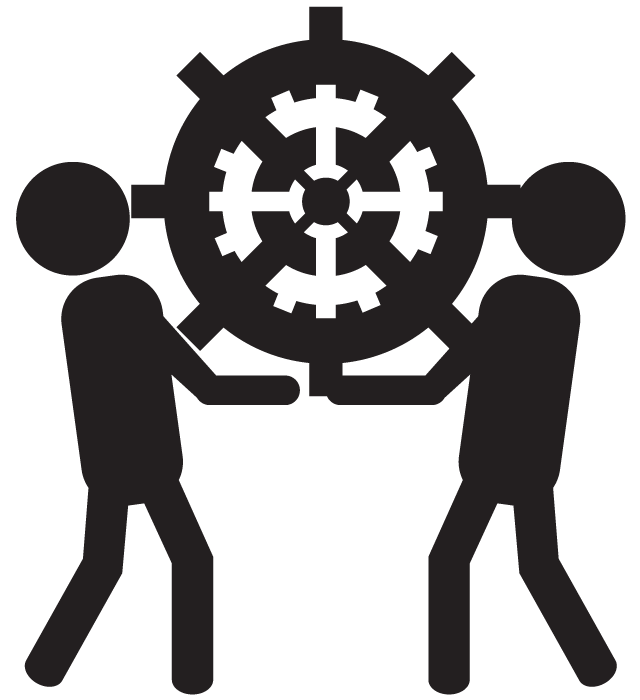 Early Efforts
Early programs in the isoform selective PI3K space hit safety issues; Rhizen sees opportunity for safer, differentiated molecules. Discovery approach is based on leveraging proven science to nurture beneficial clinical positioning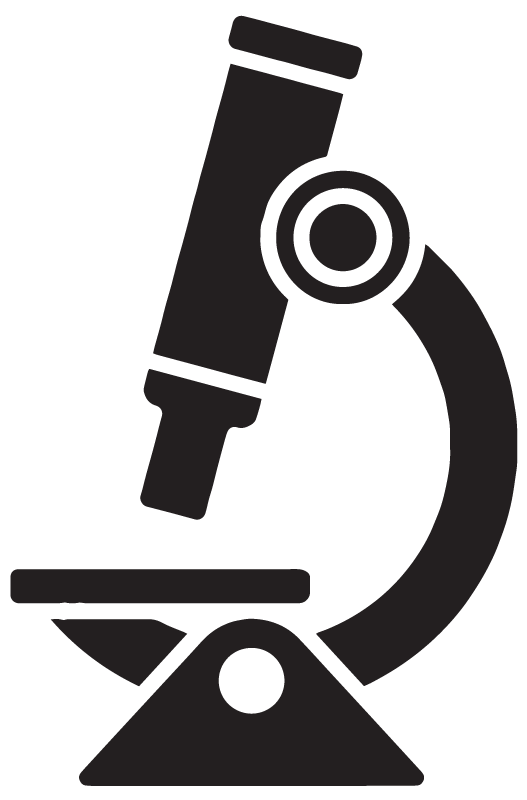 Pioneering
Research
Development & optimization of leads in isoform selectivePI3K
Rhizen's leads are specifically designed to limit the immune-related toxicity known and improvise the ability to combine with complementary assets.
Early success guided the research philosophy to create platforms to pursue and explore the full potential of associated biology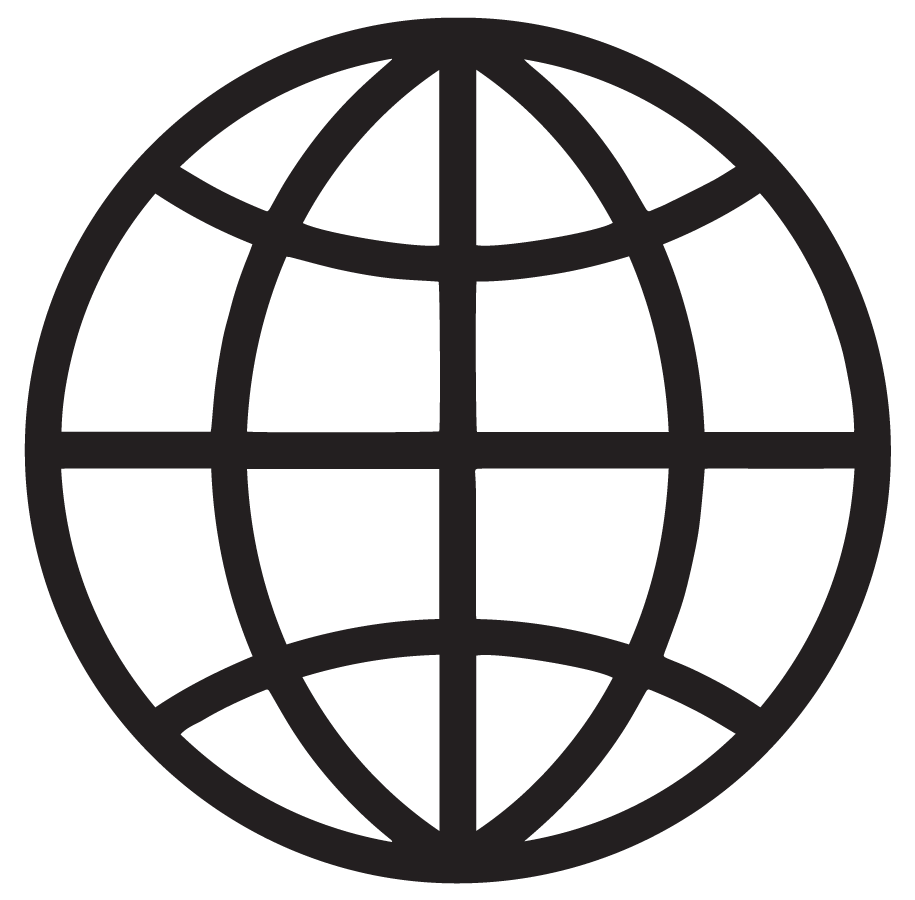 Global Outlook
Licensing deal with TG Therapeutics; First Program from platform initiation moves into the clinic for B cell lymphomas both as monotherapy and anti-CD20 combination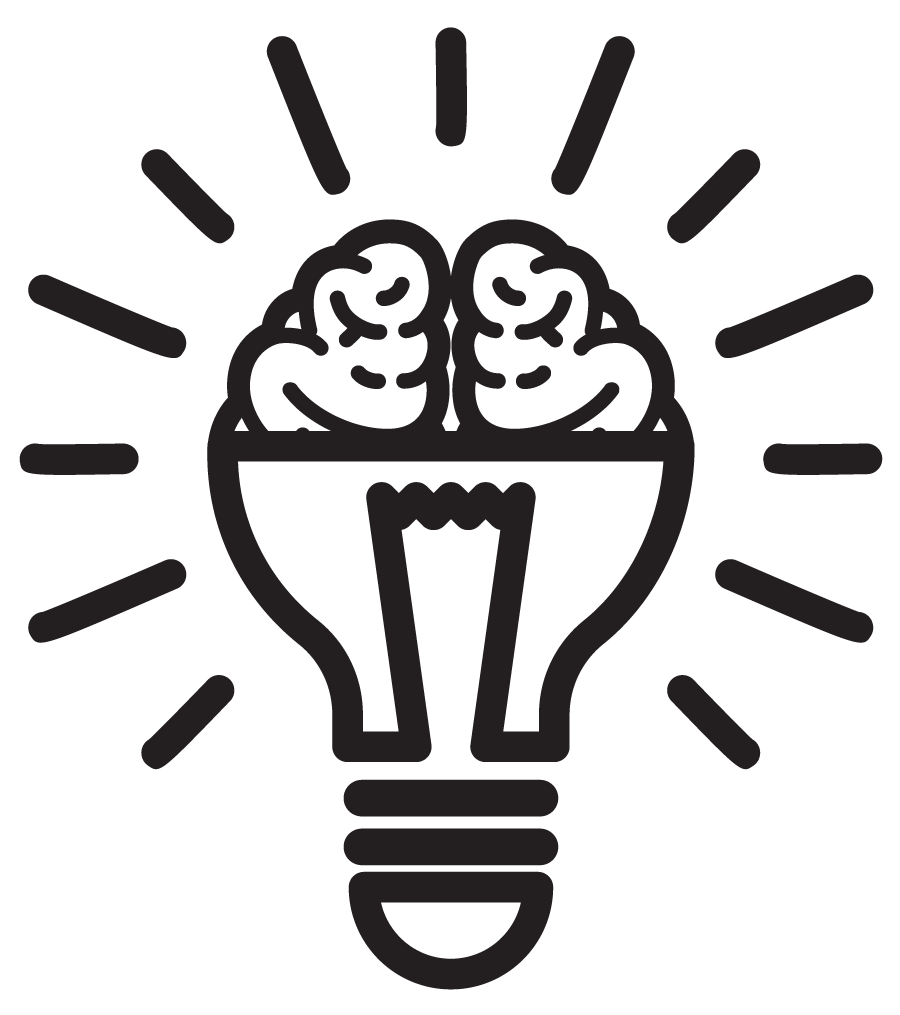 Expanding Horizons
Rhizen leverages existing drug discovery capabilities; Differentiated asset Tenalisib starts pre-clinical journey, multiple assets followed to clinic
Regulatory Progress
Tenalisib - potential best in class PI3Kδ/γ Inhibitor with SIK3 Modulation is positioned, with established rationale, for TCL, Solid Tumors, MF and AML in combinations
Inflammation programs - oral and inhaled - have proven the safety of leads selected in global clinical trials
Oncology platforms expanded substantially exploring pathways in - Cancer Metabolism, DNA Damage Response, Cyclin Dependent Kinases - aiming at multiple best or first in class oncology assets.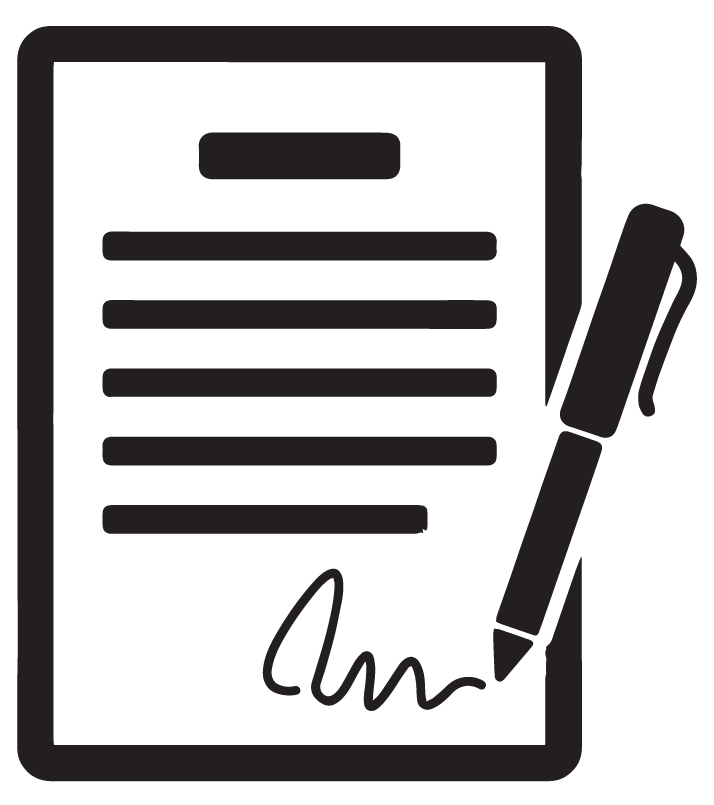 Regional Deals
Rhizen signs a deal with Curon Biopharma for Greater China rights of Tenalisib. Clinical development in China initiated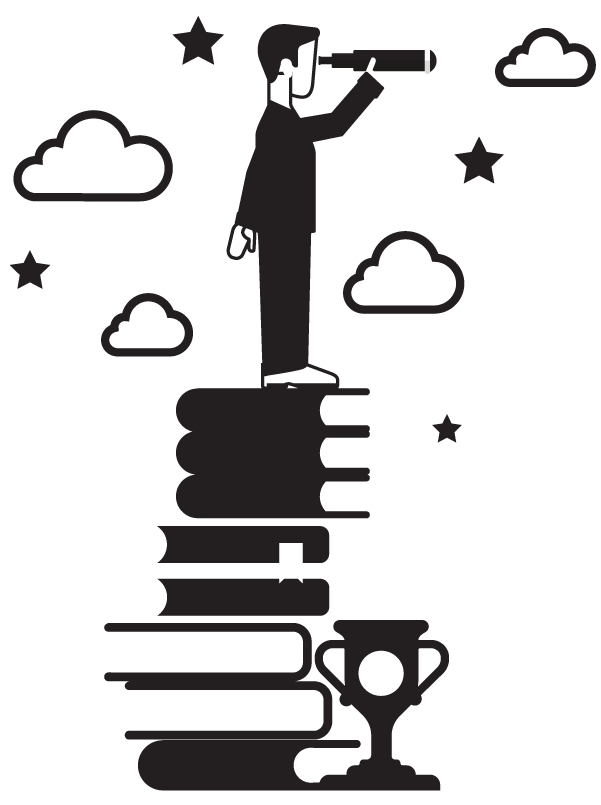 Future Steps
Journey towards initiating registration trials of Tenalisib and exploring commercial footprint in ROW regions for these successfully developed products of our first oncology platform while partnering in major markets
Programs along with combinations are pursued to mitigate risks associated with targeted drug development in Oncology
UNITY NHL: R/R MZL and FL Umbralisib Demonstrated Clinically Meaningful Benefit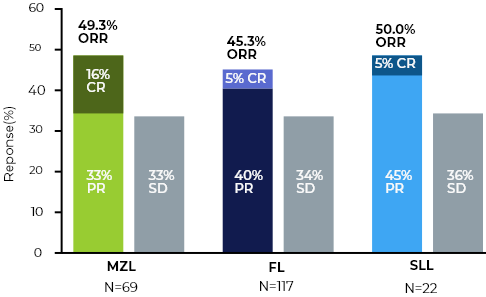 Durable single agent responses across R/R iNHLs

No MZL Complete Responses have progressed

Manageable safety profile

Low incidence of immune mediated toxicities and AE related discontinuations
UNITY-CLL: Front Line & R/R CLL Umbralisib + Ublituximab (U2) combo improved PFS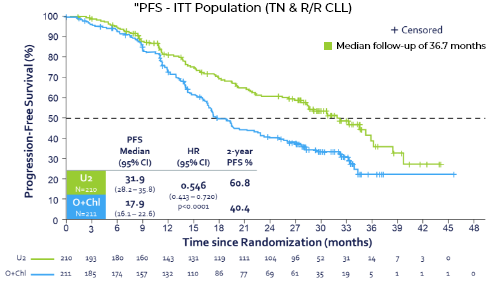 Trial conducted under SPA enrolled1L & R/R CLL pts

Control: Obinutuzumab + Chlorambucil

Met the primary endpoint of improved PFS (p<.0001>
Tenalisib: Dual PI3K δ and γ, SIK3 Inhibitor
PTCL Patients(n=15)
CTCL Patients(n=20)

$- Non-measurable disease; positive bone marrow became negative (CR).
Cancers(Basel). 2020 Aug. Huen.et.al: Tena Mono in R/R TCL
Robust single agent activity in PTCL/CTCL (mITT)

R/R PTCL – ORR - 47%
mDoR - 6.53 months(0.97 - 21.0)
R/R CTCL – ORR - 45%
mDoR - 3.8 months(2.3 - 12.8)

Safe and well tolerated

No colitis; Very low neutropenia
Related Grade ≥ 3 AEs - transaminitis (AST/ALT) (21%) & rash (5%)
Phase I/II Study of Tenalisib with Romidepsin in R/R TCL

Overall efficacy responses in both PTCL & CTCL looks encouraging (mITT)*

R/R PTCL – ORR - 75% (6 CRs, 3 PR, 2 SDs); mDoR - 4.67(2.1 - NR)
R/R PTCL – ORR - 75% (6 CRs, 3 PR, 2 SDs); mDoR - 4.67(2.1 - NR)

No unexpected AEs or increased frequency of existing AEs for individual agents were observed

Study enrollment has been completed; patient evaluation is ongoing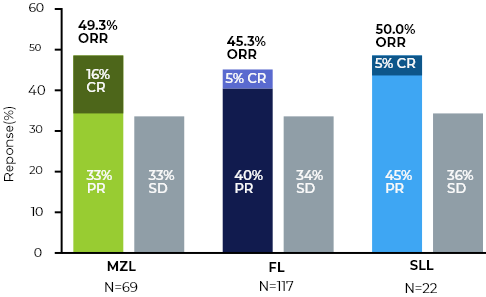 *Tenalisib + Romidepsin Phase II study data as on data cut off date 20th April 2020
Cancer and Inflammatory Processes and Targets Are Often Linked, so is Our Opportunistic/Licensing Focus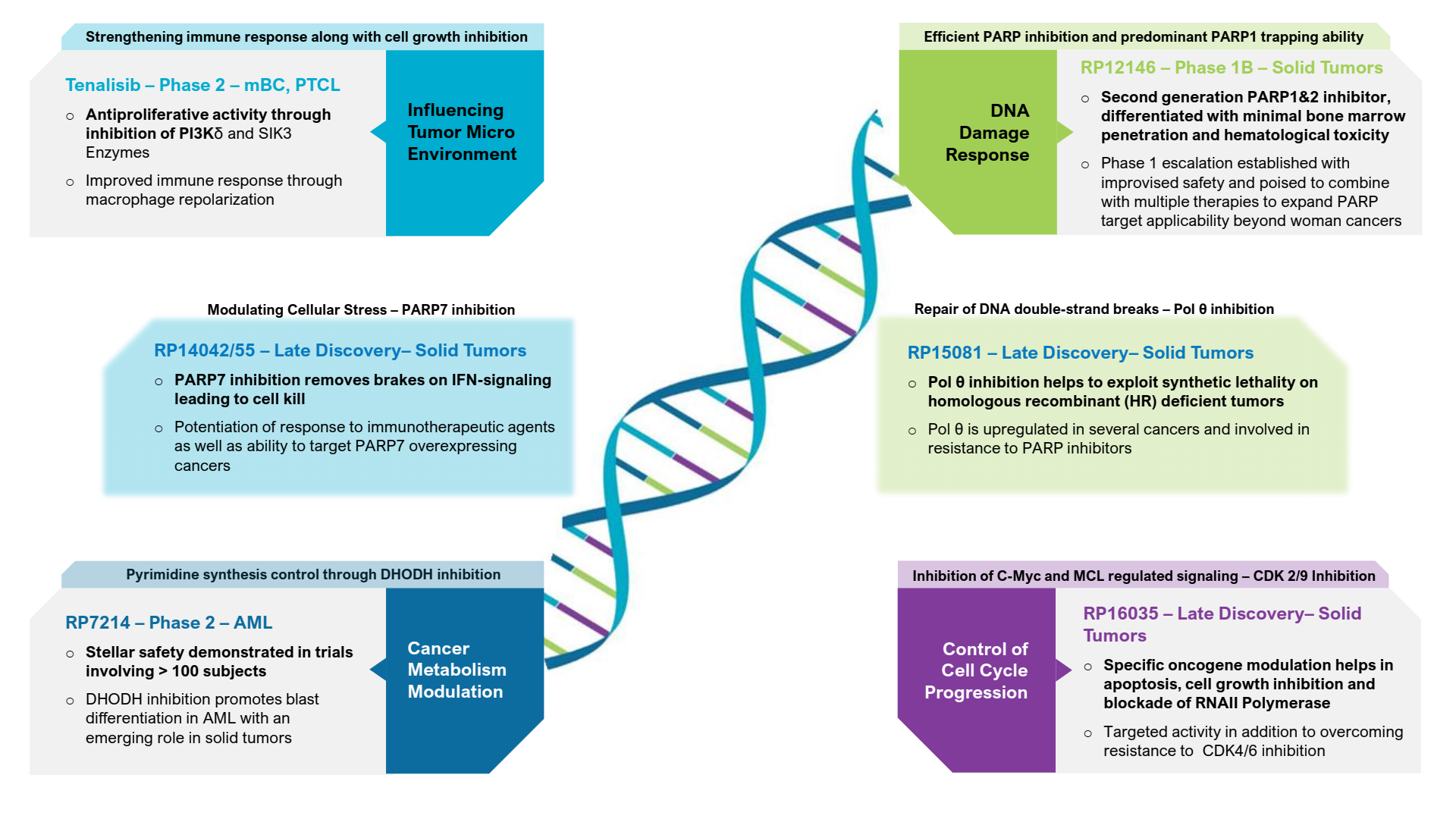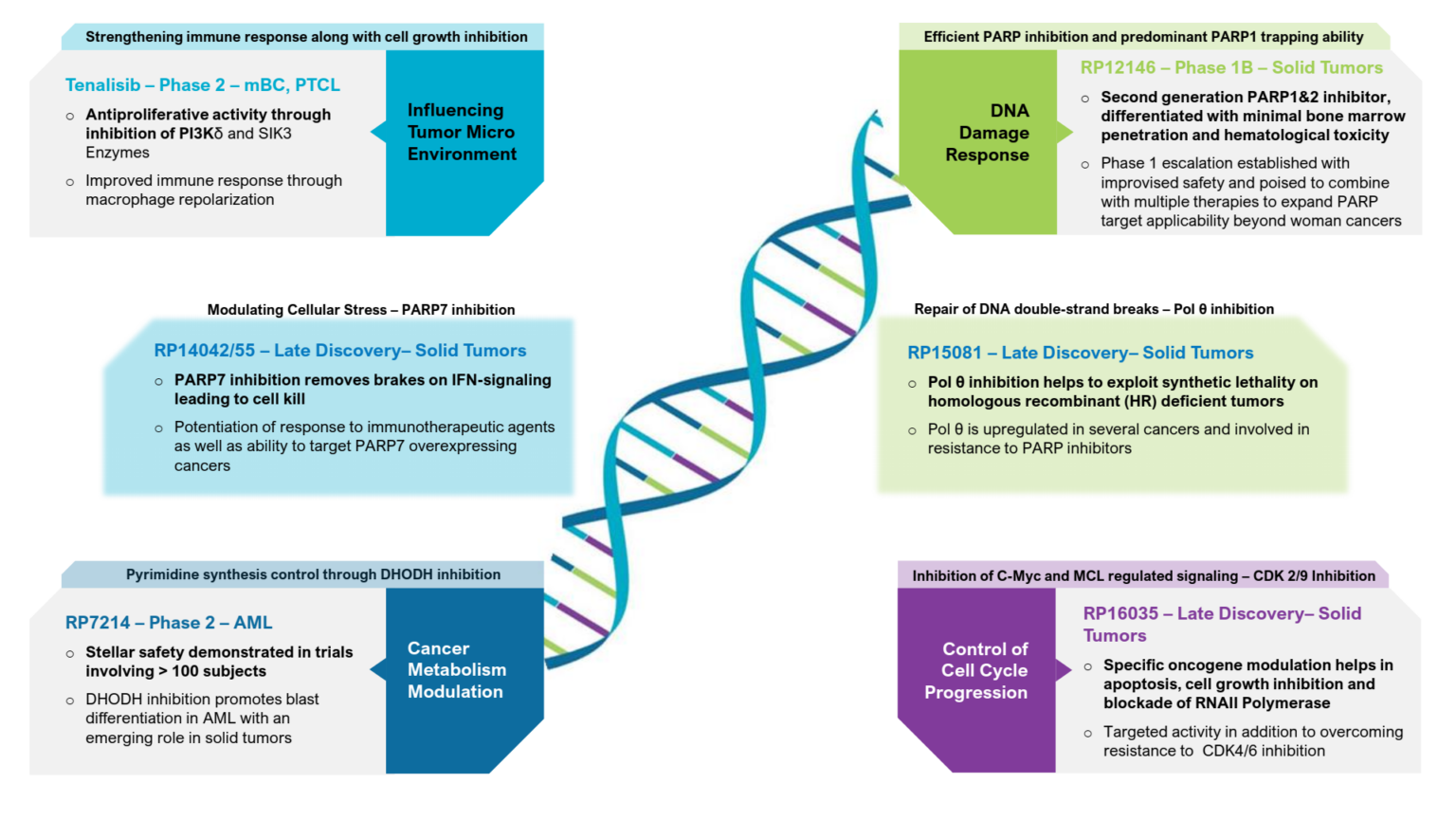 Program

ID

Title

Phase

Status

Conditions

Locations

Selective Pi3K Inhibitor

Efficacy and Safety of Tenalisib (RP6530), a PI3K δ/γ and SIK3 Inhibitor, in patients with Locally Advanced or Metastatic Breast Cancer

Phase 2

Active

Locally Advanced or Metastatic Breast Cancer

Georgia

Safety and Efficacy of Tenalisib (RP6530) in Combination With Romidepsin in Patients With Relapsed/Refractory T-cell Lymphoma

Phase 1/2

Recruitment Completed

T-cell Lymphoma

USA

Compassionate Use Study of Tenalisib (RP6530)

Phase 1/2

Enrolling by Invitation

Hematological Malignancies

USA, Georgia, Poland

DHODH Inhibitor

A Single and Multiple Ascending and Food Effect Study of RP7214, a DHODH Inhibitor in Healthy Adult Subjects

Phase 1

Completed

Healthy Volunteers

USA

Study to Evaluate the Efficacy and Safety of Oral RP7214, a DHODH Inhibitor, in Patients With Symptomatic Mild SARS-CoV-2 Infection

Phase 2

Completed

Mild SARS-CoV-2 Infection

India

PARP Inhibitor

Safety, Pharmacokinetics and Anti-tumor Activity of RP12146, a Poly (ADP-ribose) Polymerase (PARP) inhibitor, in Patients with Locally Advanced or Metastatic Solid Tumors

Phase 1

Recruiting

Advanced or Metastatic Solid Tumors

Poland and Czech-Republic
Scientific Advisory Board
Dr. James E. Sanders, DVM, PhD, DABT
Dr. James is the president of New Entity Consulting, Inc. providing to clients support in regulatory toxicology. Has over thirty years' experience in Toxicology and Veterinary Pathology in the pharmaceutical industry. Employed from 1978 to 1981

…Read More
as a staff pathologist in the U.S. Army at Walter Reed Army Institute of Research and from 1981 to 1987 as a Veterinary Pathologist at Merck, Sharp and Dohme. Joined Rhône-Poulenc Rorer as Director of Toxicology in 1987 and continued through mergers (Aventis, Sanofi Aventis) until 2005. Here, as Global Head of Toxicology, had worldwide responsibilities for designing and implementing the nonclinical toxicology and safety pharmacology testing of all drug candidates developed by the company. Was responsible for the preparation of the nonclinical sections for all INDs, NDAs, CTXs, and MAAs and for the communications with government Health Authorities globally. From 2005 to 2007 was Senior Director at Johnson & Johnson, directing development of pharmaceuticals from early development through NDA and MAA approval including government Health Authority interface. In these positions, has represented his company externally in forums and working parties such as the CPMP's SWP, DIA, ILSI, Toxicology Forum, ICH and PhRMA. Attended Ohio State University gaining a DVM, an MS in Pharmacology and a PhD in toxicology. Is certified by the American Board of Toxicology and is a member of the SOT, and the Society of Toxicological Pathologists.…Read Less
Dr. T. S. Ganesan M.D, Ph.D
Dr. T.S.Ganesan graduated 'Summa cum Laude' from Jawaharlal Institute of Medical Education and Research, Pondicherry, India and completed his MBBS and MD in Internal medicine followed by Senior Residency.

…Read More
He completed his training in Medical Oncology at St. Bartholomew's Hospital, London. His doctorate was on Philadelphia chromosome positive leukemias that was awarded by the University of London. He was subsequently appointed as Consultant Medical Oncologist at Churchill Hospital, Oxford and established a laboratory as Clinical Scientist at the Weatherall Institute of Molecular Medicine, Oxford. After 15 years at Oxford he was appointed as Chairman, Cancer Institute and Institute of Molecular Medicine at Amrita Institute of Medical Sciences, Cochin, India towards the end of 2005. His research interests have been on cancer genetics and signal transduction, in addition to clinical trials. The research in UK was supported initially by the Imperial Cancer Research Fund and subsequently by Cancer Research UK. In India, the research is supported by Department of Biotechnology and Indian Council of Medical Research. He has been awarded the Clinical Excellence award in UK during his tenure there. He has over 100 papers to his credit in international journals. …Read Less
Dr. Dhanapalan Nagarathnam Ph.D
Dr. Nagarathnam is currently the President of DNSK International, llc. Hamden, CT, where he is focused on collaborative drug discoveryprojects with biotechs and leading academic institutions in a variety of therapeutic areas including multiple

…Read More
cancer indications, diabetes, autoimmune disorders, HCV, anti-bacterial, inflammatory bowel disease (IBD), etc. Prior to this, Dr. Nagarathnam was the Director of Medicinal Chemistry at Pharmasset, Princeton, NJ, wherein he directed the HCV drug discovery projects and played a key role in selecting three liver-targeted clinical candidates and the most advanced candidate is in Phase-III human trials, and the company was later acquired by Gilead in 2012. Dr. Nagarathnam also worked as Principal Research Scientist-II at Bayer HealthCare, West Haven, CT, in multiple oncology, diabetes, obesity and osteoporosis projects and Synaptic Pharmaceutical Corporation (currently Lundbeck), Paramus, NJ on multiple human GPCR-targeted projects targeting BPH, pain, obesity, etc. In the Synaptic/Merck collaboration project he contributed to nomination of two alpha-1a adrenoceptor selective candidates for the treatment of Benign Prostatic Hyperplasia (BPH).Dr. Nagarathnam has over 25 years of experience in pharmaceutical industry and this includes leadership role in project management, medicinal chemistry, combinatorial chemistry, high-throughput synthesis, lead generation, lead optimization, process research, production, and business development. Dr. Nagarathnam obtained his Ph. D. in Organic Chemistry from the University of Madras, India and conducted postdoctoral research in Medicinal Chemistry at University of California, Purdue University, and University of Illinois and process research at Malti-Chem Research Center. Overall, Nagarathnam is an inventor on over 50 issued patents/patent applications, and an author of over 75 peer-reviewed publications in leading journals and conference presentations. …Read Less